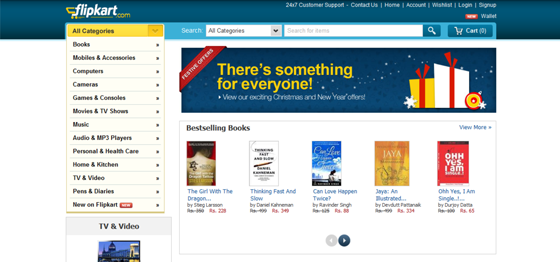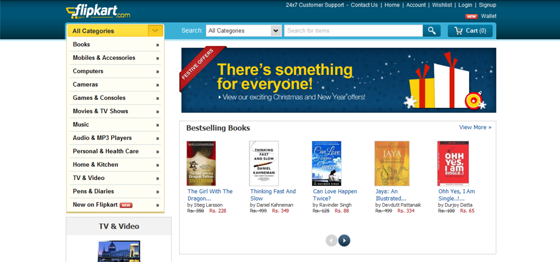 Flipkart, one of India's largest online retailers today, was one of the first of its kind when it was established in 2007 by Mr. Sachin and Mr. Binny Bansal, at a time there were not much Flipkart-esque e-commerce services in India . To enquire more about their successful journey, I asked Mr. Sachin Bansal, CEO, Flipkart.com a few questions:-
1. Explain your start-up in at most two lines. Your elevator pitch!
Flipkart.com is India's largest online shopping destination for physical products (by site traffic and revenue). Our endeavor has been to redefine the way people shop in India by delighting them in every step of the transaction, over & above the known befits of Selection, price & convenience that online offers. This obsession with customer delight is what makes us stand apart in this competitive space.
2. Tell us about your initial journey, how Flipkart came into being and your success mantra.
When Flipkart was started in late 2007 India was already witnessing quite a bit of interest in e-commerce in the form of booking of online tickets etc. While our initial plan was to create a comparison portal for various e-commerce sites, a study of the market revealed that there were not too many players in this space. This is when we realized that there was an opportunity waiting to be realized and decided to establish a site of our own.
As a company we have made it a priority to provide the best customer experience to everyone who visits our site or buys from us. We believe this focus on customer experience is what attracts people to Flipkart. We want to be the most customer friendly e-commerce company in the country by providing value through every engagement we have with our customers.
Offering a varied inventory of titles, a 30 day replacement policy to help customers become more comfortable about online shopping, launching services like cash-on-delivery and card-on-delivery to deal with the payment gateway problems in this country and setting up our own logistics service (Flipkart Self-Delivery) to help speed up last-mile deliveries – these are just some of the things that helped us become one of the most friendly retailers in India.
3. As a start-up, one of the biggest challenges is getting noticed by many people. How did Flipkart overcome this challenge? What was the initial response of the people around you?
It was a bit difficult in the beginning to build up that confidence amongst customers and business partners alike. For example, suppliers would not want to share their inventory with a start-up and it took a lot of hard work to convince them about what we were doing.
But we were confident of the space we were operating in and this belief ultimately paid off. We got noticed for our customer focus, our willingness to go that extra mile to provide the customer with a superior shopping experience and this won us a lot of goodwill.
In fact, in the initial days when we did not have a marketing budget we relied on viral and social marketing to spread the word about our services. It is only this year that we have launched traditional ad campaigns in order to reach out to more offline customers and also address existing concerns related to online shopping.
The response from our customers has been overwhelming. The faith that customers have in us is reiterated by the fact that we have a repeat purchase rate of 70%.
4. Who do you see as your competitor? Is it the brick and mortar book sellers or other online services?
We have moved beyond books and have ramped up our presence significantly in the Electronics categories as well – mobiles, cameras, laptops, home appliances etc.
Till at least next 2-3 years, we see our growth happen through the transition of customers from offline to online. While other online stores will be competing hard, the numbers are too small right now to get into a share gain battle. Our ambitions will be realized only if we are able to convert a good chunk of offline shoppers to online.
5. What has been your inspiration? Was it making money or building an enterprise or something else? Any tips for the young entrepreneurs?
We set out to create something for the Indian market – a service that was specifically built keeping the Indian consumer in mind. For us, the biggest inspiration continues to be the constant learning process that has been a part of this journey. The other has been the ability to realize our dream of doing something for the Indian consumer.
As far as entrepreneurship is concerned, we believe that the core focus for every start-up, regardless of the industry, should be the same – and that is customer focus. By putting the needs of their customer first and listening to what they have to say, is the only route to building a large, loyal customer base – the blueprint to any business success story.
6. What is the future strategy of Flipkart? Do you plan to move to other geographies beyond India and engage in other product categories? If yes, how?
As far as future is concerned, we will be looking at bigger investments in our supply chain and technology. In terms of sales we were earlier looking at a figure of $1bn by 2015. But we feel that we can achieve this in the next two to three years. We will also be looking at entering new categories. Additionally, Flipkart Self-Delivery, which currently operates in 27 cities, will be further scaled up.
We will continue to expand our categories in order to meet the growing consumer interest in the e-commerce market. We have recently added computer peripherals, kitchen appliances, televisions and home theatre systems and selected stationery items to our product range. We will continue to add more products / selection to our existing categories as well. Our aim is to make Flipkart synonymous with the shopping experience in India.
E-commerce in India has a huge potential going forward and this is just the start. We have a lot of work ahead of us if we are to fully realize this potential – we feel it will be some time before we actually look overseas.
The TechIRIS congratulates Flipkart on their successful endeavour and wishes them loads of luck for their future!!
(Visited 493 times, 1 visits today)