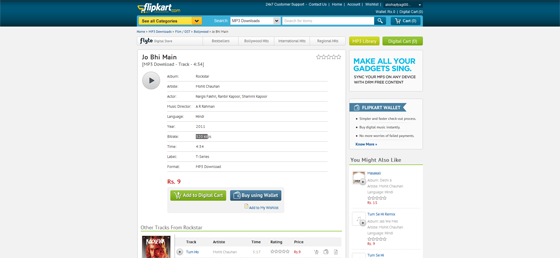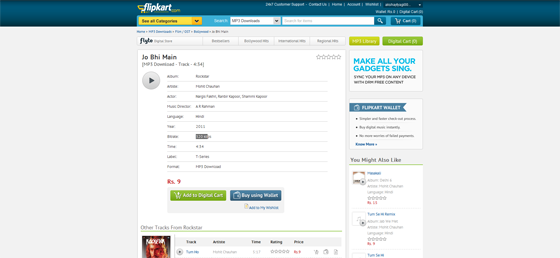 OK, so Flipkart likes to keep itself busy. They have launched a iTunes like service, Flyte, which lets you buy mp3 songs as digital downloads. Although their press release states that you can buy songs for as low as 6 bucks, and albums for 25 bucks, most albums are costlier. For example, the soundtrack of Rockstar costs 113 Rs.
You can stream the same album ob Gaana.com for free. Legally. One benefit is that the album is 320 kbps, while streaming music is generally of lower bit-rate. But, most people don't notice such differences.
You can also buy songs by International artists like Rihanna and Foo Fighters, and this will cost you substantially less than the 99 cents iTunes tracks. A few of the international tracks that I checked out were 128 kbps, though. iTunes' mp3s are 256 kbps.
Another thing that I can't stop thinking about is, the illegal music downloading site, songs.pk was banned in India, only a few days ago.
What do you think? Will you be paying for music? Or is music streaming the way to go? Comment below.
(Visited 25 times, 1 visits today)