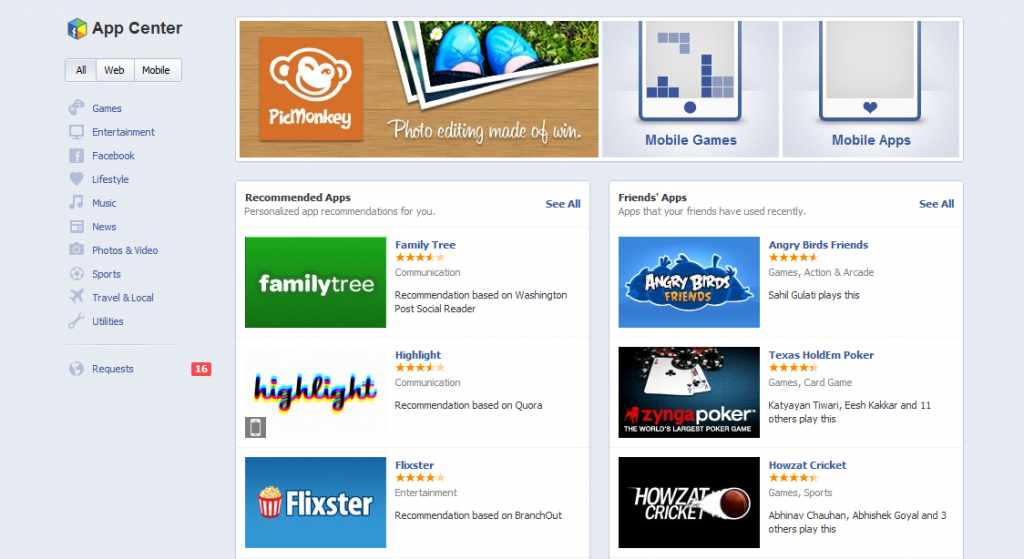 Facebook app center launched today, with 600 apps. The App Center is not like a traditional app store, in the sense that it does not necessarily have apps that run within facebook.com, but lists any app that uses Facebook in any way. If an app uses Facebook login and pushes its feed to the site, it can be listed ( for ex. Instagram ). You will be taken to the respective store ( Apple or Android ) to download the app on your phone. It basically redirects the traffic to other app stores for such mobile apps. But, there also are apps like Angry Birds Friends, that you can play within facebook.com. And then there are those that run on Windows ( like the Facebook desktop messaging client )
It lets you browse apps for mobile , web , or apps that push feeds to your timeline. It also recommends new apps based on your current apps and what your friends are using. I think that this is something that was long needed, and bringing all the apps that use Facebook, or run within facebook, helps bolster the Facebook ecosystem. I won't say Facebook is in direct competition with  Apple or Android just yet, though. It does need to be, as what is more likely to happen is that the App Center will gradually become more relevant than any of the individual app stores, because of its multi-platform and social nature.
Do check it out, and let us know what you think about it, in the comments.
(Visited 45 times, 1 visits today)