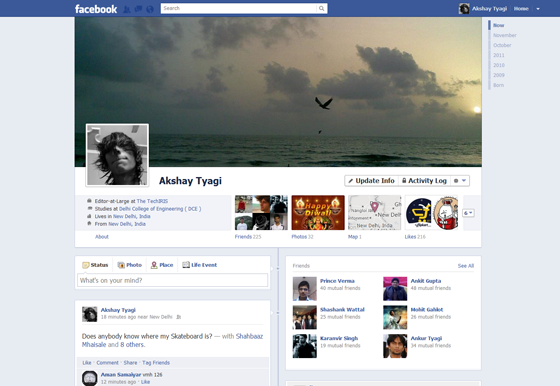 Today, Facebook announced that timeline has been launched for everybody. Here's what you need to know.
What is timeline?
It's a new design for your Facebook profile.
Um, what's new?
It's something like a digital collection of your life, that you curate. Facebook automatically organizes all your status updates and other life events chronologically, so browsing it would be something like talking to you about your life in person. It's just that Facebook takes care of the story telling. But that doesn't mean that you don't have control over it. You can control every bit of info that's displayed on your timeline. You can even add events to the past, even before you started using Facebook. Go, tell everybody your story.
Do I need another change?
Common. Stop being afraid of changes. If you can't accept small little changes like redesigns in your social networking tool, then how do you cope with bigger changes your life offers you. If you are afraid of change, that implies that you are afraid of life itself. For you life is the single most dominant road block. Life must be eliminated. In other words, as one of my friends would put it, DIE SUCKER DIE!!
Awesome! I need it now. How do I get it?
Head out to https://www.facebook.com/timeline. You can browse a sample timeline here, before activating yours.
This is a video Facebook used at f8 in September, when they first announced Timeline.
(Visited 39 times, 1 visits today)